CloudHotelier Classic Theme for Joomla 3!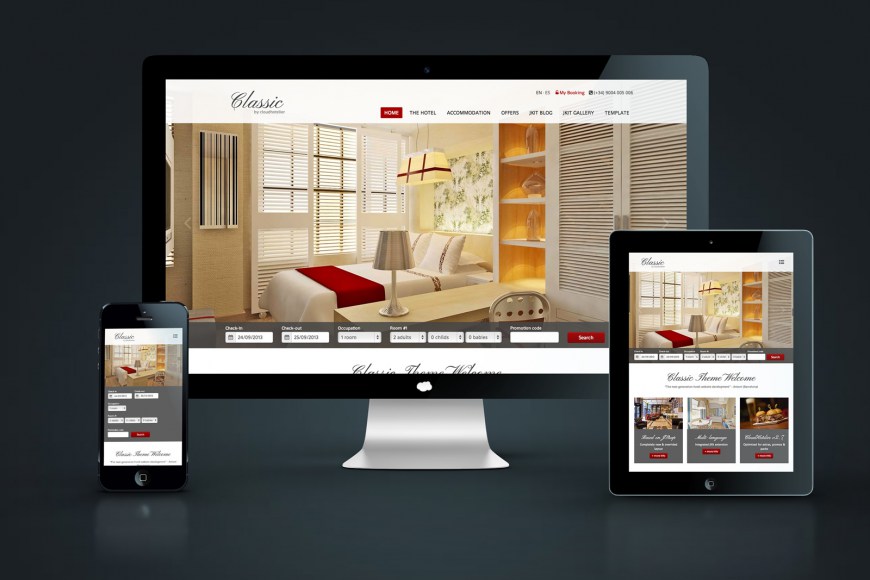 Welcome to CloudHotelier Classic, welcome to the next generation. Welcome to the most powerful hotel website development tool we have delivered yet.
With CloudHotelier Classic we want to create a template that could adapt to almost any kind of hotel website. From a countryside guest house, to beach resorts or city hotels, Classic can fit perfectly to any needs. We are providing multiple color variations, but you can also customize your own style, as we are providing easy customization LESS and CSS resources.
Classic also integrates with Fancybox, to easily create pop-up windows of image galleries or Youtube videos. We also provide different useful modules, like latest tweets, or instagram feed & facebook feed (comming soon), to make your website social and cool. Full-width image presentation on the home, is a must.
Classic Theme for Joomla 3 is built on top of CloudHotelier JStrap II template engine, taking advantage of new Joomla v3.3 CMS core for the back-end and Bootstrap v2.3 front-end framework -the same version as Joomla core- for maximum compatibility and long-term stability.
Simplicity & stability for your projects
Classic Theme for Joomla 3 is based on the new JStrap II template engine, that provides better compatibility with 3rd party extensions while keeping it's focus on simplicity, code quality and best practices on modern website development.
Bootstrap v2.3 for maximum compatibility and long-term stability
Joomla (v3.3) & Bootstrap (v2.3)
Easy customization using your own style folders
Flexible module positions configuration
Integrated cookie alert available
Easy integration of popular services

Google Analytics
Facebook SDK
Tweet button
Google +1 button

Joomla head override (move scripts to the bottom)
Dynamic style switcher
Integrated LESS compiler
Smart minified assets loader
Head generator tag override
What's included with Classic Theme-Pack?
Our theme-packs are designed to be a solid starting point to build a professional hotel website. Using our theme-packs, you will find a great base-structure and absolute integration with CloudHotelier booking engine and JKit multi-language CCK.
Our theme-packs are also very useful as an example of website configuration, if you want to see an example of how to build a hotel site structure, with it's menus, modules and languages.
Spanish Language included as an example of multi-language website configuration
Joomla v3.3
Classic Template v2.0
CloudHotelier v3.0
JKit v2.0
Mod_Tweets v2
Spanish Language Pack v3.3
More info at cloudhotelier.com
---
---